Wedding Gown Preservation
…because you want your wedding day to last forever!
clean freaks who love to help others
Keep our Tulsa community clean
Life's better when it's clean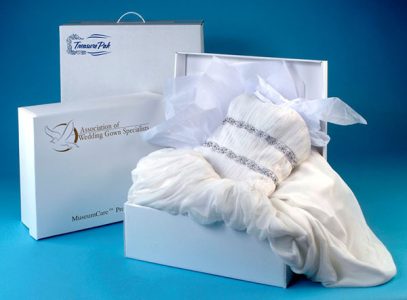 Fox Cleaners couture wedding gown care includes your personal inspection and archival, museum-quality storage materials. Vintage gown restorations and vintage veil restorations. The Fox Cleaners team are the trusted experts when it comes to preservation, cleaning & restoration.
You can trust Fox Cleaners to remove stains by hand and protect your wedding gown throughout our MuseumCare™ ZeroCarbon™ wedding gown cleaning process according to the highest standards and pressed by hand.
We carefully hand clean your wedding gown with gentle chemicals that dissolve the different kinds of stains.  Plus we take extra steps to be certain all stains, both seen and unseen, are removed because wedding day spills such as soda, wine and cake (many times caused by a guest and unnoticed by you) can dry without leaving a visible mark. Otherwise, these sugary stains, which are not dissolved during ordinary dry cleaning, will caramelize into ugly brown stains. Once all stains are dissolved, your wedding gown is rinsed in pure solvent until all chemicals are removed and your wedding gown is completely clean.
Vintage Gown Cleaning/Preservation
Heirloom wedding gown preservation and vintage wedding gown restoration are our specialties. If the wedding gown of your dreams is a family bridal gown that time has yellowed and stained, call us! We specialize in restoring antique gowns and vintage bridal gowns to the true color without damage to delicate fabrics or dyes. We remove stains and discoloration that ordinary dry cleaners cannot, and our restorations have been featured on television and in publications around the world.
Whether it is a vintage wedding gown or vintage wedding veil or one of those special gowns you or someone in your family wore as a child, we can renew it for your special day. You can trust us to give your vintage wedding gown or family wedding gown the care and attention it deserves.