Life's better when it's clean.
Life's messy. Make it cleaner, simpler & happier with Fox Cleaners.
Important COVID-19 Updates
Effective Monday, March 23rd, we will discontinue counter service and only provide drive thru service at 4 of our 5 locations. We will close our location at 1732 South Boston until this crisis has passed. We will operate under regular business hours and continue to offer same day service for any orders dropped off by 9am Monday through Friday. We urge all our customers to consider using our convenient

home pick up and delivery service

or our drive through locations during this time.
At Fox Cleaners, we believe life's better when it's clean. Since 1984, we've helped keep our Tulsa community clean, one spot, one family, one neighborhood at a time. Whether you need dry cleaning, laundry, wet cleaning, linen cleaning, or specialty cleaning, our goal is to make your life cleaner, simpler and happier. Just visit any one of our five locations in Tulsa and Jenks or schedule your free pickup and delivery.

Pamper yourself Monday – Friday, in by 9 out by 5
Our same-day, fabric-cleaning services in Tulsa and Jenks give you more time to focus on what matters. Bring your fabrics in by 9am, Monday through Friday, and we'll have them back to you after 5pm. It's the least we can do to make your life a little easier.


Look flawless and feel priceless
Our eco-green, dry-cleaning service throughout the Tulsa area removes your toughest stains, is gentle enough for your most delicate fabrics and ensures your clothes look like new.

Spend more Time Doing What You Love
Our convenient laundry and wash-and-fold services throughout the Tulsa area give you more time to do what you love. Priced by the pound, our experts do everything but put it away.

Our wet-cleaning service throughout the Tulsa area is an eco-friendly alternative for some dry-clean-only garments. If it meets the criteria, we clean, press and steam it to perfection.

Experience the decadence of hotel luxury in your own home with Tulsa area linen-cleaning services including blankets, bed sheets, bedspreads, down comforters, furniture coverings, table linens and more.

Restore purpose to your fabrics
Our Tulsa-area repair and alteration services restore your garments and shoes so they're like new. We repair shoes, replace broken buttons, hem pants, and make alterations to help make your life just a little easier.


Save time by getting everything done in one place. We specialize in silks, linens, leather, suede, beaded gowns, wedding dresses, coats, jackets, shoe shine and repair, collar treatment, and stain removal throughout the Tulsa area.
Simplify Your Life with our free
Membership Portal & Mobile app
Life's complicated. Get more time to do what you love when you become a member of Fox Cleaners.
Just sign up through our online portal below, then download our mobile app to get $10 OFF your next order.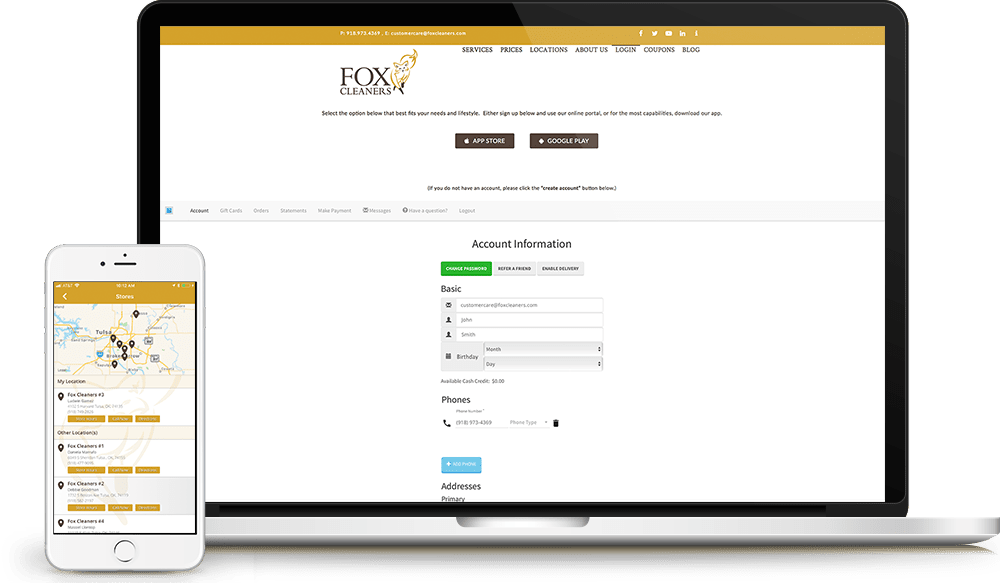 $10 OFF When You Join & Download our App

Access & Manage Your Account From Anywhere, Anytime

Track Your Garments & Household Items

Set Your Cleaning Preferences

Pay Your Bill Online & View Your Order History/Receipts

Schedule Pick Up & Delivery

Exclusive Monthly Specials & Flash Sales​
Latest Cleaning Tips, Tricks & How Tos
From our closet to yours: the latest garment cleaning tips, tricks and how tos to make your life a little cleaner, happier and simpler.
People usually pick a dry cleaner closest to them without giving it a second thought. The truth is, choosing the wrong one can cost you in the end. Not just monetarily. It can cost you time, peace of mind, and even your health. That's why you should look at reviews, consider the kind of services […]
Very rarely does a business owner get so involved during a trouble shooting situation and you really impressed me. I have bragged to at least 4 people in how quickly you called and about our discussion. No apologies are necessary, but are appreciated. If I can ever do anything for you or your company, please do not hesitate to contact me, I'm just a phone call away.
"I have been coming here for 5 years and every time it's great! They give coupons and the people that work there are always great to work with!"
"I have been using Fox for about 20 yrs or more. Wonderful customer service and care of clothing."
"Since arriving here they've done good by me."
"Fair prices and have them done by 5 the next day! 👍😉"
"They are very professional and even have a neat little app you can use! I had 7 pieces and they were ready within 24hrs."
"My husband, Robert, and I have been a customer for more than 20 years. We've always found the employees to be courteous, friendly, and very helpful. Fox Cleaners has superior customer service!"
"I had gotten black shoe polish on my White Linen shirt and they got it out. I am very happy with the service I received and the front counter personnel are very friendly."
"The customer service is exceptional and I have no complaints about their dry cleaning. Recently redid their counters and logo at that location. Looks great!"
"Great service!! Super friendly staff!"
"Amazing service!! Answered me back after hours and opened up the store for us! Highly recommended!!! Customer focused people which is why I left Yale cleaners after years of being their customer. Thanks again Fox Cleaners!"
"I love my Fox CLeaners in Jenks! Kelly is not only a great worker, but she has become my friend!!! She's the best!!"
"We enjoy using the Jenks location! Customer service is very good! Only suggestion is that coupons need to be redeemed when order is picked up rather than when it is turned in."
Thank you for the excellent service. We very much appreciate and enjoy Jay's excellent work and hustle as our delivery driver.
Leave us an honest review about your experience with Fox Cleaners.
Fox Cleaners, a full-service cleaners, is located in Tulsa and Jenks and also serves Bixby and Broken Arrow.