What's hotter than an Oklahoma summer? Not much. The surface of the sun, maybe? Oklahoma is known for bringing the heat between June and August, which can do a number on your clothes, not to mention your comfort level. Don't sweat it. Just because the weather's spicy, doesn't mean you have to stay home sitting under the fan binging Downton Abbey or Queen's Gambit (again).
There are so many fun things to do in the summer, especially now that we're able to get out and about more again. Want to have fun in the sun, but look good and feel great doing it? Here are four ways to slay this summer!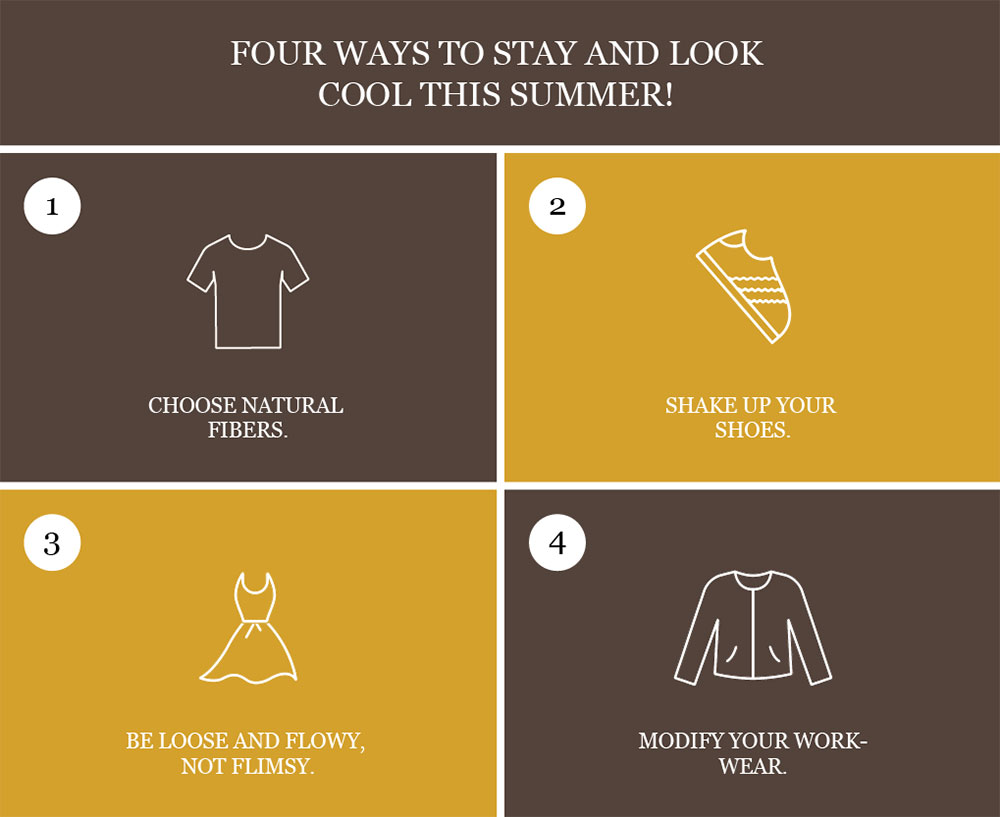 1. Choose natural fibers and lighter colors.
Breathability is key. So skip polyester, rayon, and leather and choose cottons and linens instead. Natural fibers absorb sweat and dry faster, while synthetic fibers get sweaty and damp pretty quickly. Also, be sure to wear lighter colors, which don't absorb the sun's rays like blacks and dark blues. Rule of thumb is you can wear white between Memorial Day and Labor Day, (personally, we're for "wear white whenever"), however wearing white on a summer day is not up for debate: It's always a good decision!
Try this: Wet-cleaning is ideal for natural, delicate fibers like linens. Plus our process is eco-friendly and comes with free pickup and delivery too!
2. Shake up your shoes.
Your father may not be your fashion inspo in most instances (Tucking in your t-shirt? C'mon dad!) However he's 100% right about one thing: White sneakers are awesome! They pair well with just about everything and are always comfy. Sandals are another swell choice, as they're a breeze to wear, and let your feet feel the air too.
Try this: A well cared for shoe is your foot's best friend. Schedule a free pickup and delivery for boot and shoe cleanings, repairs, or re-soling!
3. Be loose and flowy, not flimsy.
The less fabric you're wearing, the more comfortable you will feel, right? Wrong. The less fabric you have touching your skin, the less sweaty and more comfortable you will feel. So let it flow. Maxi sundresses. One-size-too-large t-shirts. You'll look good and feel comfy too. Just don't wear flimsy fabrics, which can stick to your skin once you start sweating. Embroidery and seams help here.
Try this: Worried about red wine on a sundress? BBQ sauce on a white t-shirt? Coffee or grass on anything? We got this. Find out about our stain-removal services.
4. Modify your workwear.
So summer may be vacation season, but most of us don't get to take a three-month break (one more reason we miss college). You still have to work, but if you're dressing like it's spring, you're in for a rough 9-to-5. Separates get hot in the summer, so stick to one-piece garments. Pack a cotton cardigan to stay comfy if your office has a heavy duty A/C. And if you work in a professional setting where sandals aren't an option, wear loafers or flats with moisture-wicking, no-show socks.
Try this: You want your workwear to be functional, but still look fabulous, so schedule a free pickup and delivery for our eco-friendly dry cleaning services!
BONUS TIP! Focus on the "Four F's."
Summer should be a time to take it easy and focus on the "Four F's" in life: Family, friends, food, and fun! You know what's not on that list? Laundry. This may sound strange coming from us, but there's more to life than clothes — so let us take care of them for you!
Try this: Live your life to the fullest this summer, or any season, and we'll handle your laundry, household items, and more! Try our monthly wash-and-fold family subscription plan for just $135/month, with free pick-up and delivery!